A trend in the application of information technology to increasingly complex organizations is the use of diagrammatic methods to illustrate the current and projected functions, processes and data used by the organization. Formerly these had to be described in long and complex text-based documents which were difficult to assimilate and even more difficult to keep updated. There are now a number of computer-based tools available to support diagrammatic methods, one of which is Microsoft's Visio. One of the methods Visio supports is the "Entity-Relationship Diagram" (ERD) which generally uses the "Crow's Foot" notation on its relationship element.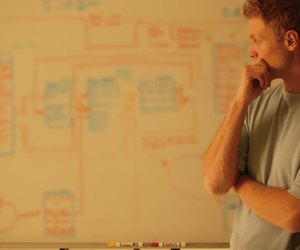 Step
Click "Start," "All Programs." Select "Microsoft Office" and then "Microsoft Visio."
Step
Click "File," select "New," "Database," and then "Database Model Diagram."
Step
Select "Options" from the "Database" menu and then select "Document."
Step
Select the "Relationship" tab and set a check mark against "Relationships" and "Crow's Feet." Click the "OK" button.