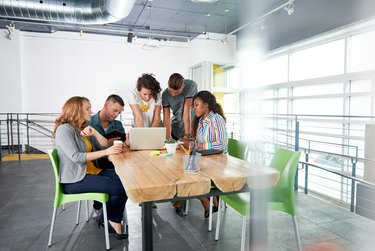 Business flow, also called business process, is a description of the system in which a business flows. Business flow is often illustrated using a business flowchart or business process diagram.
Definition
Business flow is the process in which tasks in a business take place. It is the steps in the business process from start to finish ensuring objectives and goals of the company are met. Business flow also shows all major components of the business process.
Purpose
Understanding the flow of a business is vital for well-run organizations. Business flow allows employers and employees the knowledge needed for understanding the unique business process of the company they work for or run. It allows these individuals to understand the business requirements and helps determine areas where the company needs improvements.
Features
Business flow is illustrated with diagrams many times. A business flow diagram outlines the order of tasks within the business and the departments responsible for the tasks. It helps define and analyze each process. A business flow diagram illustrates how information is collected, circulated and disclosed.