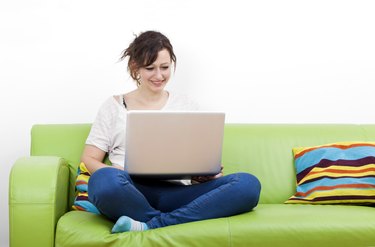 Internet Explorer 11 opens in full screen mode when it's set as your default Web browser. Using IE in full screen mode prevents Windows from switching to the desktop view and instead opens the application in the modern UI. While in full screen mode, you can hide or show the tabs and address bar by editing your settings, which are accessible from the Charms bar in Windows 8.1.
Set IE as Your Default Browser
To open the Default Programs applet, press the "Windows" key, type "Default Programs" (without quotes, here and throughout) and press "Enter." Click "Set Your Default Programs," select "Internet Explorer" and then choose "Set This Program As Default." Now when you launch IE, it opens in full screen mode in the modern UI. To save time when launching the browser, pin the program tile to your Start screen. Press the "Windows" key, type "IE" and then right-click "Internet Explorer" in the search results. Select "Pin to Start" to add the program tile to the Start screen.
Access the Address Bar and Browser Tabs
While using IE in full-screen mode, click "Settings." Choose "Options" and turn on the "Always Show Address Bar and Tabs" feature. In the modern UI, the address bar and tabs have a somewhat different look, but they work the same way as in the desktop application. Click "New Tab" to open a new, blank tab or click inside the address bar to enter a search term or Web URL.