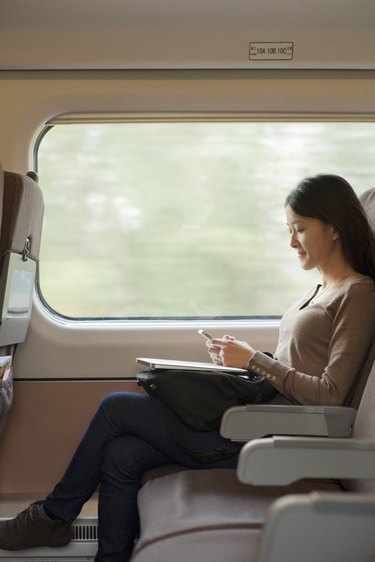 If you've lost contacts on your Android 5.0 device, the quickest way to load them back is to connect to the Internet and let the device automatically sync with your Gmail account. You can also add contacts manually in the native Contacts app.
Syncing Contacts
Contacts in your Gmail account sync automatically with the Contacts app. Connect to Wi-Fi and wait for your contacts to sync onto the device. To sync contacts from locations other than Gmail or your Google account, launch the Contacts app on your Android device, tap the "Menu" button in the top corner and select "Settings." Tap "Import/Export" and follow the prompts to import your contacts onto your device.
Adding a Google Account
If your device was wiped and some of your original contacts were from a Gmail or Google account other than the default associated with your device, use the Gmail app to add your other accounts back onto the device. When a new account is added to the Android device, its contacts are automatically imported into the Contacts app. To add a Google or Gmail account, open the Gmail app, touch the "Menu" button in the top corner and then tap "Add Account." Select "Google" as your account type and tap "OK." Touch "Existing" and input the Gmail address and its associated password in the provided fields.
Troubleshooting Sync Issues
If contacts don't sync automatically into the Contacts app, troubleshoot the problem. First, restart the device and, after reboot, make sure you're connected to a Wi-Fi or cellular network. Verify that automatic data sync is enabled as well. Open the "Settings" app, tap "Data Usage" and touch the "Menu" icon in the top corner. Place a check mark in the "Auto Sync Data" check box, if it is unchecked. Next, verify that Gmail synchronization is turned on in the Gmail app itself. Open the Gmail app, touch the "Menu" icon and select "Settings." Choose the Gmail account that's not syncing and place a check mark in the "Sync Gmail" check box. If a check mark is already there, remove it and then check the box again.
Adding Contacts Manually
The Contacts app also enables you to add individual contacts manually. Open the Contacts app and tap the "+" sign to create a new contact. Tap the drop-down menu at the top of the screen to select where you want to save the contact. This step is necessary only if you have a micro SD card inserted into your device. Enter the name of the contact in the Name field and then enter the contact's phone numbers and emails. Select a unique ring tone for the contact as well, if you wish.