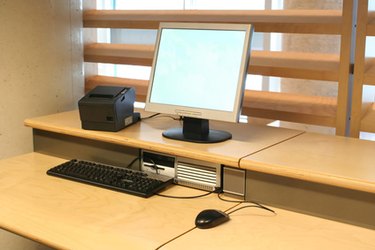 Computers running a Microsoft operating system will have drives identified by a letter. Microsoft operating systems include Windows XP, Windows Vista. Windows 90 and Windows ME. The "C:" drive is the main hard drive located in your computer. The drive identified by "D:" is normally a CD or DVD drive.
The drive letters are determined according to installation pattern. You as the user determine the order in which extra storage or the type are installed. A drive identified by "Removable Disk E:" can be a camera, iPod, external hard drive, flash drive, MP3 player, card reader or Bluetooth device.
Troubleshoot the Device
Step 1
Connect the device to your computer that is identified by "Removable Disk E:." Click on "Start" and double-click the "My Computer" icon. If the device shows up in the list of drives, you do not need to take any further steps. The device will appear and disappear as it is connected and disconnected.
Step 2
Click on "Start." Right click on the "My Computer" icon. Click on "Properties" and then click on "Device Manager."
Step 3
Navigate to the "Disk Drives" tab and click on the "+" sign to see the full list of drives installed. Locate the drive that is giving you the problem. Right-click and select "Properties." Uninstall the driver for the device. If the device is an external DVD or CD drive, navigate to that tab in Device Manager instead. The same process can be used in the Portable Devices area for card readers.
Step 4
Restart the computer and allow the plug-and-play device to reinstall. Hardware installed in a computer is typically plug-and-play allowing a Windows operating system to install the driver from a batch of known drivers.
Step 5
Navigate to "My Computer" and see if your device is now showing up. If the device is listed and working properly, no other steps are needed.
Manage Drive Letters
Step 1
Change a device drive letter to a different one. Right-click on "My Computer" and click on "Manage." Click on "Storage" and then "Disk Management."
Step 2
Right-click on the device that is giving problems and click "Change Drive Letter and Paths." Choose a letter that isn't already assigned.
Step 3
Save changes and restart the computer.
Tip
When using multiple USB devices, a computer may install two devices under the same drive letter. This is a common problem and it is best to assign a drive to each piece of equipment used.