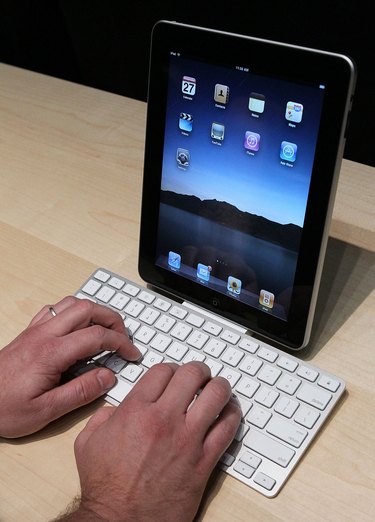 The iPad's onscreen keyboard automatically displays when you select a text field, such as an email body, text message or Safari URL. However, if you previously used a Bluetooth keyboard with the iPad, the onscreen keyboard might not display as expected, even after disconnecting the peripheral device. This usually occurs when the Bluetooth keyboard is left on and the iPad automatically discovers and connects to it. To restore the expected onscreen keyboard behavior, you'll need to sever the Bluetooth connection.
Disconnecting a Bluetooth Keyboard
You can quickly see if the iPad is connected to a Bluetooth device by looking for a bold Bluetooth icon on the iPad's status bar; if you see this, you might have a connected keyboard. Press the "Eject button" on the keyboard to disconnect it from your iPad and re-enable the onscreen keyboard. If there is no Eject button, turn off the keyboard or move it to another room, so it's out of range. You can also disable Bluetooth in iPad's Settings or "forget" the specific keyboard entry.