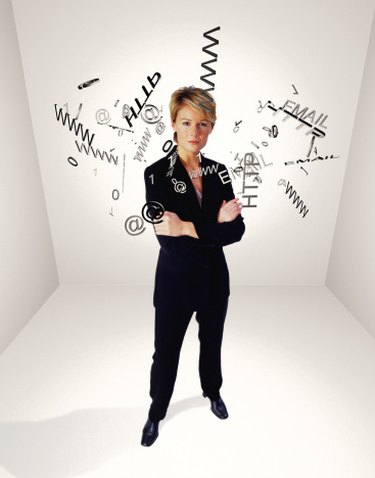 If you seek to boost your professional distinction or add more personalization to your email, you can create your own personal email address. Most people simply register with an email service provider such as Gmail, Hotmail or Yahoo. However, you can register your own domain name and create an email address with that domain instead. You must pay a premium for the domain, similar to a vanity license plate, but most domain registrars offer packages that include an email account with the purchase of a personal domain.
Step 1
Find a company that offers domain registration services such as Go Daddy, Network Solutions or eNom. Select a company that has been ICANN (Internet Corporation for Assigned Names and Numbers) accredited to avoid registration scams. Go to the domain registration page of the registrar's website. If you already have your own personal domain name, skip to step five.
Step 2
Enter your desired domain name in the text box and choose an extension. For example, in the email address "contact@example.com," "example" is the domain name and ".com" is the extension. You may select multiple extensions to increase your chances of finding an available combination. Choose "Search Now" or your registrar's equivalent to verify the availability of your domain name.
Step 3
Select a domain and extension from the list of available combinations. Click on the icon to add it to your cart. If none of your choices are available, go to the previous page by clicking the back arrow on your browser. Choose a new domain name and try again.
Step 4
Select your preferences for the remaining options, including a payment plan and whether to register your domain publicly or privately. Enter your payment information when prompted to do so and finalize your order. You will receive log in information after your payment has been approved.
Step 5
After the registration process is complete, log in to your service provider to access the email account features. Select the "Email Accounts" icon or equivalent from the main page. Choose an email name and enter it in the text field. For example, in the email address "contact@example.com," "contact" is the email name. Select your domain name from the drop-down menu.
Step 6
Enter your desired password in the "Password" and "Confirm Password" text fields, or its equivalent for your service provider. Select "Create Account" or its equivalent.
Step 7
Under the main menu, select "Web Mail" and then "Web Mail Login" or its equivalent for your service provider. Using the name and the password you specified, log in to your new online email account.