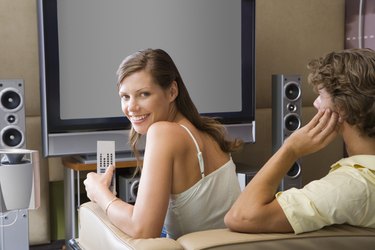 Onkyo is a manufacturer of surround sound systems and audio receivers. Adding a surround sound system to your home theater will allow you to enjoy 5.1 surround sound audio from your favorite sources, such as cable TV, Blu-ray players, and video game consoles.
Step 1
Plug in the five surround speakers to the back of the surround sound receiver. Each speaker has a color coded wire that denotes which channel it is. Open the positive and negative terminals on the speakers and on the corresponding port on the receiver and insert the positive and negative ends of the cable for each speaker.
Step 2
Plug in the subwoofer cable into the "Subwoofer" port on the back of the receiver.
Step 3
Place your speakers around the room. This will vary depending on the size of your room and the location of your TV and seating area. The center channel should go above your TV with the front right and front left channels on either side. Place the two rear channels behind you and the subwoofer on the floor near the front of the room.
Step 4
Connect your devices to the surround sound receiver. This will vary depending on what devices your are connect and what type of cables you are using. Refer to your devices' manuals for specific instructions on connecting them.
Step 5
Connect the video output port on the receiver to your TV. You can use either a composite, S-Video, component, or HDMI cable, depending on which ports your receiver and TV support.