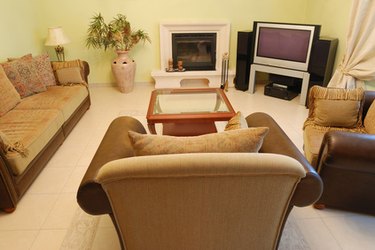 Durabrand Surround Sound systems are entry-level home theater packages that include a receiver with A built-in DVD player and pre-wired speakers. Each speaker has a permanently attached cable that terminates in a plug for connecting to the back of the Durabrand receiver. Each jack on the receiver is labeled for a specific speaker so the setup and connections should take less than half an hour. Use a standard composite video cable to hook up the receiver to a TV for a complete home theater.
Step 1
Place the front left and right speakers on each side of the TV with the speaker labeled "Center" either above or below the TV screen. Set the rear speakers behind the seating area at head level and place the subwoofer on the floor a few inches away from the wall, which can absorb bass sounds if the sub is pressed against it.
Step 2
Connect the plug on the end of each speaker to the jack labeled for that speaker on the back of the Durabrand receiver. The cables are permanently attached to the speakers, so each may need to be moved closer to the receiver. For example, the left front speaker connects to the jack on the receiver labeled "LF."
Step 3
Plug the video cable from the Video OUT jack on the back of the receiver to a Video Input jack on the back of the TV.
Step 4
Plug in the Durabrand receiver and TV to the electricity and switch on both components.
Step 5
Press the "Input" button on the TV remote several times until the Durabrand signal displays on the screen.