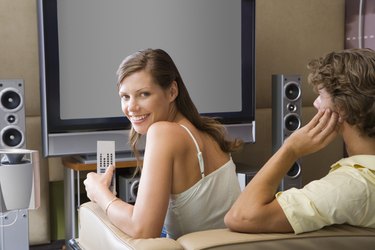 JVC manufactures surround sound systems for home theater. With a balanced speaker package, audio/video receiver and DVD or Blu-Ray player, the system needs only a television to complete the home theater. Setup involves a single video cable with three color-coded plugs that connect to the television and the JVC surround sound receiver in a matter of seconds. Once connected, the JVC remote control can be programmed with a three-digit code to turn the television on and off. A list of remote control codes for various models of television is included with the JVC instruction manual.
Step 1
Turn the power "Off" to the JVC receiver and the television while you are connecting video cables.
Step 2
Connect a set of RGB component video cables to the red, green and blue "Video Out" jacks on the back of the JVC receiver.
Step 3
Insert the plugs on the other ends into the component "Video In" jacks on the back of the TV. Restore power to the components.