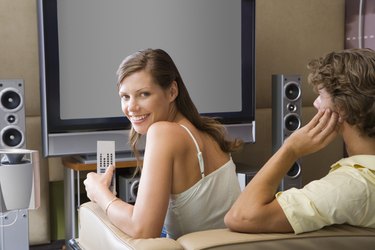 JVC manufactures surround sound systems for home theater. With a balanced speaker package, audio/video receiver and DVD or Blu-Ray player, the system needs only a television to complete the home theater. Setup involves a single video cable with three color-coded plugs that connect to the television and the JVC surround sound receiver in a matter of seconds. Once connected, the JVC remote control can be programmed with a three-digit code to turn the television on and off. A list of remote control codes for various models of television is included with the JVC instruction manual.
Step 1
Turn the power "Off" to the JVC receiver and the television while you are connecting video cables.
Step 2
Connect a set of RGB component video cables to the red, green and blue "Video Out" jacks on the back of the JVC receiver.
Step 3
Insert the plugs on the other ends into the component "Video In" jacks on the back of the TV. Restore power to the components.
Tip
Use a single video cable connected to the yellow Video In jack on the TV if the set is not equipped with the three jacks for component video.
Refer to the model codes in the JVC instruction manual to program the remote control with a particular brand of television. On most JVC remotes, the code is entered by pressing the TV "Power" button and then pressing and holding the TV "Control" button while the three-digit code is entered on the keypad. Releasing the TV "Control" button completes the programming.
Warning
Do not insert a video cable accidentally into an audio jack, which can damage the amplifier and cause an annoying sound when the equipment is switched on.