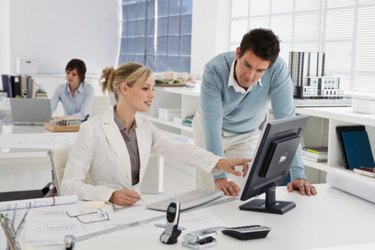 When you work with Ableton Live, an application for creating and editing music for both Windows and the Mac, you might want to import an audio file into a project. For example, if you are creating a jingle for a commercial, you might want to add a bass guitar line to a track to give it a heavier sound, or you want to import a clip of someone singing a phrase that will enhance a new song you're working on. You can easily import an audio file into Ableton Live.
Step 1
Launch Ableton Live on your computer.
Step 2
Click "File" from the Ableton Live menu, and then click "New Live Set" to start a new project. Click "File," then click "Open." Click a folder that contains an existing project, then click a file to select it, and then click "Open."
Step 3
Click one of the three file browser icons in the left pane of the Ableton Live window. You can use each file browser to search different folders on your computer. For example, you could use one file browser to look for files on your startup drive and another file browser to look for audio files on an external hard drive that's plugged into your computer. A directory of folders appears under "Library."
Step 4
Click a triangle next to a folder in the file browser window to reveal the folders inside. For example, click the triangle next to the "Bass" folder to reveal folders for different categories of bass sounds. Click the triangle next to one of the bass sounds folders to reveal the audio files it contains.
Step 5
Click the "Preview" switch at the bottom of the Ableton window to enable previewing if you want to listen to previews of audio files before importing them into your project. Click a file to listen to a preview.
Step 6
Drag an audio file into a track in the main Ableton Live window. If you drag an audio file into the space below the tracks, a new audio track is automatically created to accommodate the audio file. You can also drag an audio file from your computer's desktop or any folder on your computer into the Ableton Live application window.
Step 7
Type a keyword in the search box below "Library" in the left pane of the Ableton Live window if you have many audio files to browse through and want to find a file quickly without browsing. Click "Go" to start the search. If you type "Bass," the search results will return a list of results that include files with the word bass in them, such as "Groovy Bass" and "Noisy Bass," as well as any files inside a folder that has the word "Bass" in it.
Step 8
Click a file from the search results list to preview it, or drag it into a track in the application window to import it.