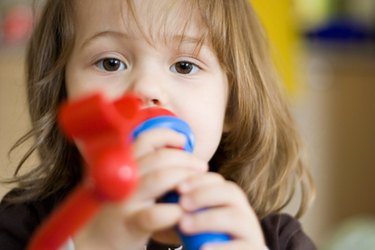 Whether you are professional singer or just someone who likes to sing in the shower, karaoke can be a lot of fun. Many people have karaoke software installed on their computers and enjoy singing their favorite tunes while following the lyrics on their computer screens.Windows Media Player does not support, by default, the CDG files needed for a karaoke setup. However, with the addition of a free codec, you can enable Media Player to play your favorite karaoke files and display the lyrics and graphics on-screen.
Things You'll Need
Step 1
Download and install the "Karaoke for DirectX" codec for Windows Media Player. (See Resources.) Reboot the computer if prompted to do so.
Step 2
Double-click "Computer" or "My Computer" and browse to the folder that contains the karaoke ".CDG" file you want to play in Media Player.
Step 3
Right-click on the CDG file. Click the "Open With" option and then the "Windows Media Player" option.
Step 4
Wait for Windows Media Player to launch and begin playing the CDG file. You should be able to hear the music as well as see the graphics and lyrics on the viewing screen.