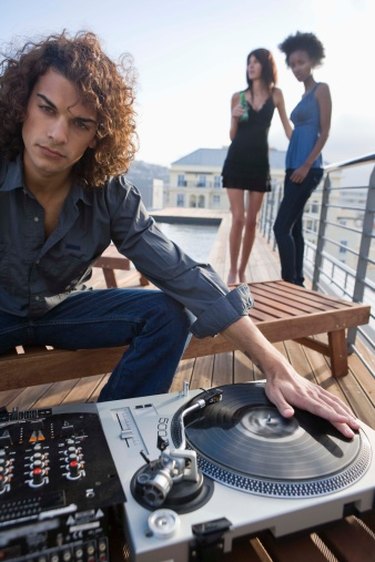 Disc jockeys, or DJs, typically mix songs and sound effects while altering the pitch, rhythm and beat of a song to create customized music. Disc jockeys are skilled audio artist who have spent years working with turntables and audio mixers, but advancements in the field of digital audio technology has given rise to user-friendly computer software programs, such as Virtual DJ, that function as a digital mixer and turntable, allowing users to become an instant disc jockey. Learn how to install more sound effects into your Virtual DJ software.
Step 1
Open a Web browser, and navigate to the Virtual DJ website. View the homepage, point the cursor to "Download," "Plugins" and click on "Effects" to display the page showing various special sound effects available for download.
Step 2
Select the sound effect that you wish to download, and click on its displayed picture to navigate to the download page. Follow on-screen prompts that will guide you in completing the file download. Open the download folder once the download is complete.
Step 3
Right-click on the downloaded file to display a drop-down menu. Click on "Copy" in the drop-down menu to copy the downloaded sound effects file. Open "My Documents" in your computer, locate the "Virtual DJ" folder and double-click on the folder to open it. Double-click on the displayed "Plugins" folder to open it, and double-click on the "Sound Effect" folder to open the folder.
Step 4
Right-click on an empty area on the "Sound Effects" window, and click on "Paste" in the resulting drop-down menu. Close all open windows, and open the Virtual DJ program in your computer. Play a song and test the new sound effects.