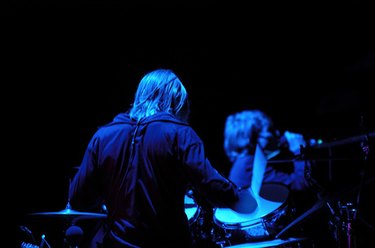 Toon Track's EZ Drummer program allows a user to create virtual drum loops and songs on his computer. EZ Drummer can be controlled with a standard MIDI keyboard mapped to each individual note, or entire samples can be chained together to make a beat from the EZ Drummer sound library. However, with the audio application Reaper and its MIDI input abilities, it is possible to control the functions of EZ Drummer with a standard computer keyboard.
Step 1
Download and install the Cockos audio program Reaper. Open the .exe file that downloads, agree to the terms, and install all the components to the default locations.
Step 2
Install EZ Drummer into Reaper's VST folder under "Program Files." Open Reaper and click the "Edit" tab at the top. Select "Preferences." Click the "MIDI" tab on the left of the box and in the box marked "MIDI Inputs," double click the "Virtual Keyboard" and select "Enable."
Step 3
Under the "Track" tab on the top of the screen, select "Add Virtual Instrument on New Track" and choose EZ Drummer as the instrument. When the plug-in loads, press Alt+B to bring up the virtual keyboard, which will be mapped and used to control EZ Drummer.