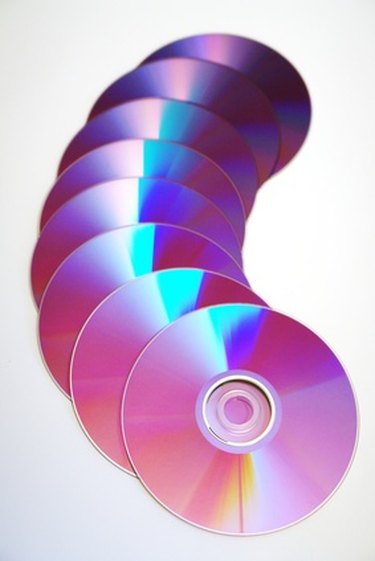 Karaoke CDs generally contain audio-video files in the CDG format. CDG, or Compact Disc Plus Graphics Image, files contain both the karaoke audio and the text and graphics that display on the screen when using a video karaoke system. If you want to burn your own discs that contain CDG files, commonly referred to as CD+G discs, you can do so using standard CD-Rs. You cannot, however, use standard burning software. Only two CD-burning programs have the ability to burn CDG files to disc.
Power CD+G Burner
Step 1
Download Power CD+G Burner and install the program to your system. Power CD+G Burner can be downloaded from software site, CNET (see Resources.)
Step 2
Find and download CDG files that you want to burn to CD. Websites that offer CDG downloads include EZ-Tracks and Karaoke.com (see Resources.) Save the files to a location on your computer where they are easy to find, such as the desktop.
Step 3
Launch Power CD+G Burner from the computer's "Start" menu. Click the "Add" button at the right of the screen and find the CDG files in the window that comes up. Double-click any file to add it to the list of titles.
Step 4
Insert a CD-R into the CD drive of your computer. Click the "Burn" button and the imported CDG files burn to the CD.
Nero
Step 1
Download Nero Burning ROM if you don't already have the program (see Resources.) Install Nero to your computer.
Step 2
Go to EZ-Tracks or Karaoke.com. Download CDG tracks to your computer and save them to a folder that is easy to access.
Step 3
Launch Nero Burning ROM from the "Start" menu's program list. Display the audio disc options in the startup screen by clicking the icon with the music note. In the list that comes up, click on "Audio CD."
Step 4
Click "Add." Locate the files that you saved to the hard drive in the window that pops up and double-click each file to add it to the CD+G disc project.
Step 5
Place a blank CD in the CD drive. Click "Burn" to burn the CDG files to the disc.