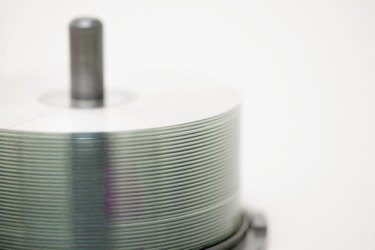 MP3 files are an ideal music format because their relatively small size allows for as many as 120 songs, and often more, to be burned onto a single CD-R disc. This is a good way to have a huge selection of music you can play at one time without having to change the disc in your CD player. A disc in audio CD format (CDA), however, can fit approximately 17 or 18 songs per disc. If you plan to listen to your songs on your computer or an iPod, MP3 format is your best choice. But since many stereo systems don't read MP3 files, you may need to convert your MP3 music to audio CD format. However, you don't need to purchase or install software to perform the conversion because Windows Media Player -- which can convert MP3 files to audio CD format -- is already included in all versions of Windows.
Step 1
Launch Windows Media Player, and then click the "Burn" tab. Select the "Burn Options" button, and then select "Audio CD" from the list.
Step 2
Browse to the folder on your computer where the MP3 files that you want to convert are located. Drag the MP3 files you wish to convert to audio CD format into the burn list in Windows Media Player.
Step 3
Insert a blank, recordable CD in to your computer's disc drive. If your computer has several disc drives, select the drive you prefer to use in the Burn navigation pane.
Step 4
Arrange the songs in the order you want them to appear and click "Start Burn." The MP3 files will be converted to audio CD format (CDA) and burned to disc.