Windows comes with a special screensaver that monitors your pictures folder for any JPG or other image files. When the screensaver starts, Windows will play back the pictures in a slideshow fashion. However, the screensaver lacks customization options and is tedious to distribute since you have to send all the photos to someone else and instruct that person to put those photos in his pictures folder. It is better to convert the JPG files to the standard SCR file format for screensavers. Other people can view these packaged screensavers immediately after installing them.
Step 1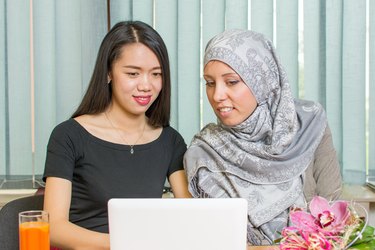 Use gPhotoShow Pro to build a photo slideshow screensaver out of JPG files. GPhotoShow offers various transition effects in case you convert multiple pictures into a single SCR file. The program also automatically resizes images so they fit the monitor. Extra features include support for multiple monitors so you can see more pictures and MP3 support if you want to add background music.
Step 2
Use Screensaver Wonder to convert images to screensaver format. Screensaver Wonder can optionally add a photo frame or other graphic effect to enhance the photos. It is also possible to add text labels and short audio clips to the images. Other features include the ability to make a screensaver CD that provides the necessary files for quick installation.
Step 3
Use Axialis Screensaver Producer to convert various file types to screensaver formats. Axialis offers full drag-and-drop support so you can drag any JPG images you wish to convert into a single screensaver file. It also lets you add animated objects in case you want to complement your photos with extra graphics. Adobe Photoshop and Adobe Illustrator plug-ins are provided so you can edit the photos before importing.