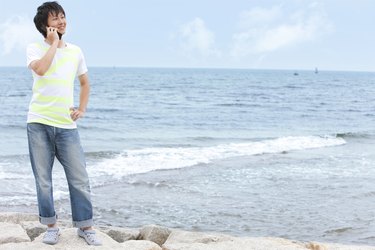 Poor reception and dropped calls are easily some of the most annoying experiences we have with our cell phones, including the handsets offered by Cricket Wireless. While there are certainly instances where poor reception is actually Cricket's fault, many times it is actually due to environmental or positional issues. Most causes of poor reception can be resolved, or at the very least mitigated. So before you place that fiery call to Cricket tech support about how terrible your reception is, try out these tips for improving reception.
Step 1
Check your immediate vicinity for electronic devices. All electronic devices can create interference for cell phones, some producing stronger interference then others. If you're surrounded by electronic devices, the cause of the poor reception may be little more than interference. Move away from the devices and see if signal quality improves.
Step 2
Take your phone outside to a clear area and check signal strength. Building and tall structures like trees can physically block signals from reaching your phone, resulting in poor or no reception. Some building materials are worse than others -- dense concrete or metal roofing can make signal reception almost non-existent.
Step 3
Check your phone's battery. A low battery can limit your phone's ability to find strong signal reception, which in turn sends the quality of your call right down the drain. If your phone's battery is indeed low, try charging it back up and testing reception and signal strength again.
Step 4
Refresh your phone's signal and connect to a nearer tower. The problem may be that your phone is still trying to receive and transmit signals to a tower further away, reducing quality. By switching your phone to airplane mode and back or by completely powering down your phone and restarting it, you can connect to the nearest tower to ensure maximum signal strength.
Step 5
Check your phone's hardware, including the antenna. This may be harder to do on some handsets than others, but if you notice any damage to your phone's hardware, it may be the cause of the poor reception -- especially if the antenna is damaged. If you do notice damage, contact the manufacturer for service information. Otherwise, you'll probably have to replace the phone entirely.