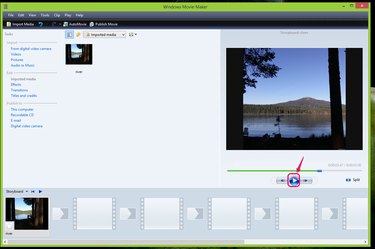 As a simple and concise movie editor, Windows Movie Maker 2012 imports all types of media files including video clips, audio files and photo files to your projects to simplify your movie-editing experience. View an animated GIF file in the preview monitor in either storyboard view or timeline view; the selected view displays the GIF file by a specific frame or time point, respectively.
Step 1
Click Import Media on the menu bar to select the media file you want to insert into your project in Movie Maker.
Step 2
Choose the GIF file you want to import from the Import Media Items window and click Import.
Step 3
Drag the inserted GIF file to the Drag Media Here box in the bottom of the screen.
Step 4
Click the Play button below the Storyboard to start playing the animated GIF photo. You can also click the next frame arrow buttons located to the right and left of the Play button to view each frame in the GIF file one by one.
Step 5
Choose Timeline from the drop-down list to view the animated GIF by to time sequence by clicking Storyboard at the bottom of the screen.
Step 6
Drag the slider box to view each frame on the timeline.