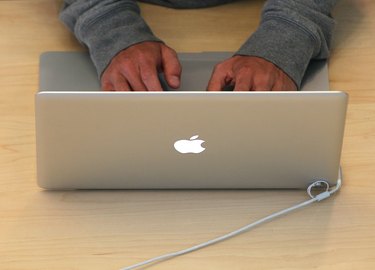 A Linksys wireless USB adapter can be used to add wireless capability to a Mac that does not have an Airport card installed, or to a Mac which has a malfunctioning Airport card. Linksys wireless USB adapters variously provide access to 802.11b, 802.11g, and 802.11n networks, depending upon the type of adapter you are using. The higher the letter in the alphabet at the end of the card, the faster the network. All 802.11 adapters are backwards-compatible to 802.11b hotspots.
Step 1
Plug the Linksys wireless USB adapter into an open USB port on your Macintosh.
Step 2
Open the Network system preference pane to see if the Linksys adapter has automatically been recognized by your Macintosh as a new network port. Click the plus button in the lower-left of the window; the adapter should appear as a network port option.
Step 3
Go to the Linksys support website (over a wired Internet connection, or from another computer), if the adapter does not appear as an available option, to download the driver for your adapter. Install the driver and restart your Macintosh, then return to Step 2.
Step 4
Add the Linksys adapter as an active Internet connection by clicking on the adapter and clicking "Create."
Step 5
Click the Linksys adapter in the left side of the window. Status information for the adapter will appear in the right side of the window. Your adapter should automatically find available wireless networks in your area; select one from the "Network Name:" drop-down menu.
Step 6
Configure your wireless connection, if necessary, by clicking on the "Advanced..." button. Most wireless networks will automatically connect with the adapter and configure your connection.
Things You'll Need
USB port on your Macintosh

Linksys wireless USB adapter