How to Install iTunes on a PC. iTunes is a program that is used on Mac computers, but there is also a PC version available. iTunes makes it easy to organize, play and enjoy your music files on your computer. Follow the steps below to download and install iTunes to your PC.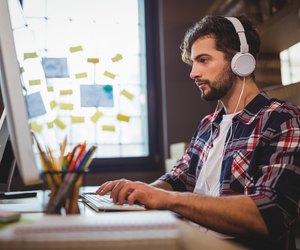 credit: Wavebreakmedia/iStock/Getty Images
Step
Go to the Apple Download site and enter your email address. Choose the Windows version of the software and click on "Download iTunes."
Step
When the "File Download" box appears, click on "Save" and watch as it downloads to your PC.
Step
After the installation is done, look for the iTunes Setup file on your PC desktop and double click the icon.
Step
Follow the installation instructions and select options that suit your needs. You can select the icon to appear on your desktop or even select iTunes as your default music player.
Step
Click "Next" to install the program on to your computer. After installation, you will need to restart your computer.
Step
Open your newly installed iTunes program by clicking on the iTunes icon.
Step
The program will search for the MP3's that are already on your computer. Allow the program to search for MP3's by selecting "Add MP3s and ACC Files."
Step
Decide if you want to have iTunes organize your files. If you want to keep them as they are, click the "Next" button.
Step
iTunes will open and you can browse and play your music files.