Ever since the nineties, AOL has allowed users of its AOL Desktop software to converse with other users in chat rooms. Browse existing chat rooms or create a new one by using the Chat Room Listings keyword.
Join a Chat Room
Step 1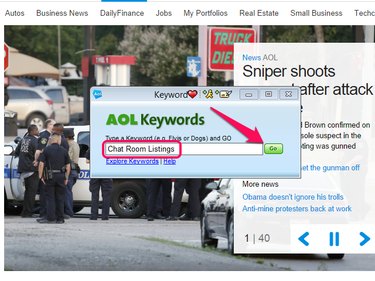 Open the Keyword window by pressing Ctrl+K, enter Chat Room Listings in the text field and click Go.
Step 2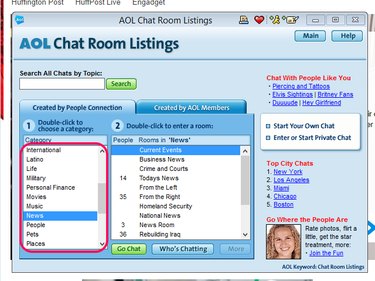 Double-click a category to select it.
Step 3
Select the chat room you want to enter and click the Go Chat button to open it.
Tip
AOL lists the number of people currently in a chat room under the People column. Chat rooms with a blank People field are currently empty.

See the names of the users currently in a room by clicking the room's name and selecting Who's Chatting.

The Created by People Connection tab lists chat rooms created by AOL. To view the rooms created by AOL users, open the Created by AOL Members tab.

Use the search box to search for a specific chat room.
Join a private chat room by clicking the Enter or Start Private Chat link, typing the exact name of the chat room and clicking Go Chat.
Warning
Chat rooms created by AOL members can be of an adult nature.
Create Your Own Chat Room
Step 1
Use the AOL Chat Listings keyword to open the Chat Listings window and click the Start Your Own Chat link.
Step 2
Click the Member Chat link.
Tip
To create an unlisted -- or private -- chat room, select Private Chat and enter the name of the chat room you wish to create. Share that name with other users to let them join your private chat room.
Step 3
Double-click the name of the category under which you want your chat room to appear and enter your room's name in the text field. Click the Go Chat button to save and join your new chat room.