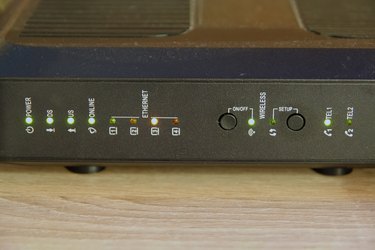 A Netgear wireless router makes it possible to connect your devices to your Internet connection and local area network wirelessly. When you first install the router to your network, it's ready to use in most cases. Sometimes, though, you need to configure the device for your specific usage. This requires logging into the Netgear wireless router's Web administration interface. Netgear devices require this login to prevent the unauthorized access and configuration of your device.
Step 1
Open your Windows "Start" menu and type "CMD" into the "Search" box. Press "Enter."
Step 2
Type "IPCONFIG" into the Command Prompt window and press the "Enter" key. Write down the IP address shown next to the Default Gateway setting. In most cases, this address is 192.168.0.1 or 192.168.1.1.
Step 3
Close the Command Prompt window and open your Internet browser. Type the IP address you wrote down for the default gateway into the browser's address bar. Press "Enter."
Step 4
Type your username and password into the security prompt. According to Netgear Support, the default username and password for most Netgear routers is "admin" and "password." For older routers, "1234" is the default password.
Step 5
Click "OK" or press "Enter" to log in. Your browser is redirected to the Netgear wireless router's administrative page.