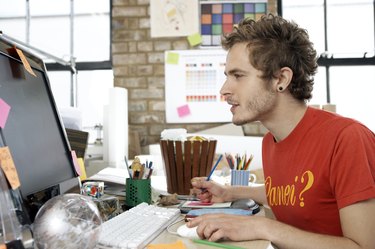 While SketchUp is primarily used for creating 3D models, it can also be used as a quick and easy to way to draw floor plans, elevations and other two-dimensional elements. Google's SketchUp program is known for being exceptionally user-friendly and will give you the ability to create your 2D drawing in almost no time. Once you have created your 2D drawing in SketchUp, you can use that as a base for making a 3D model or you can simply use your 2D creation as is.
Step 1
Go to sketchup.google.com to download either the free or pro version of SketchUp. The free version is very complete and will likely be sufficient. If you find that the free version does not offer enough features, you can always upgrade to the pro version at any time.
Step 2
Open SketchUp and make sure the standard views are on your toolbar. The standard view icons are little houses that are each facing a different direction. If you do not see this on your toolbar, try maximizing the SketchUp window. If the toolbar is still not there you can add it by right-clicking on the toolbar and selecting "Customize." Drag the standard view toolbar from the pop-up menu to the top toolbar in the SketchUp window.
Step 3
Click on the icon in the standard view toolbar that shows the roof of the house. This view is called "Top" and is the only view you need to use when creating a 2D drawing in SketchUp.
Step 4
Begin drawing your 2D element. Use the basic tools to start with if you are just learning the program. Click on the pencil icon to draw a straight line or use the arc tool to create a curved line. Use the rectangle icon if you wish to create a square or rectangle. Selecting the circle icon will allow you to easily create a circle. You can rotate or offset elements by choosing the appropriate tools and you can erase any mistakes you make with the pink eraser icon. If you choose to add color, material or texture to your 2D image, you can do so by clicking on the paint bucket icon. This will bring up a small window from which you can select colors and materials.