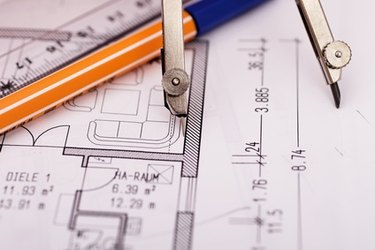 Remodeling or redecorating your house can require a lot of work. You have to move the furniture back and forth if you are not satisfied with the way it looked especially if you just based the planning on your imagination. Fortunately, the Internet can make things easier for you. You need not do the planning in the old-fashioned way. There are many websites that offer free printable templates of floor plans. Now, you can just sit back and do the planning with just a click of your finger.
Step 1
Go to www.floorplanner.com. You can create an account for free. This site provides you with the quickest and easiest way to make your floor plans. This online application has 2D and 3D features so you can have a realistic look at the new arrangement of your house.
Step 2
Click on "create an account" on the upper right corner of the window. Type your email and password. You will then be directed to the welcome screen. Next, go to "my dashboard" and click "new floor plan" under recent projects. You are now ready to create your floor plan.
Step 3
Click on the icon "draw a room" under the construction toolbar. Drag it until you reach the measurement that you want. You may notice that as you outline the floor area, the exact measurement is shown. You can either choose feet or meters for the measurement.
Step 4
Go to the library toolbar and choose from the different categories on the drop-down menu. The structural category provides the basic structure for your layout, stairs, fireplace, heating system, balcony, ceiling fan and so on. Then continue with the other categories for the different rooms inside your house. Drag and drop furniture and fixtures of your choice as you design your house. You can also rotate the furniture and place it in your desired location. Once you are done, click the 3D icon on the upper right hand corner to view the 3-dimensional look of your design.
Step 5
Save your work using the "save" icon found on the upper left corner of the sheet. You may want to use this project again in the future. Otherwise, you can directly print it by clicking on the "print" icon on the upper right hand corner of the screen.