Instead of using regular paper and pencil to draw what you want your dream home to look like, some online resources offer free tools so that you can draw virtual plans. These types of websites offer simple user-friendly grids and interfaces for constructing everything from the outside to the interior of a house. Many virtual home-building websites are also accurate and detailed enough so that you can show your finished plans to contractors, who can use them to help build a home.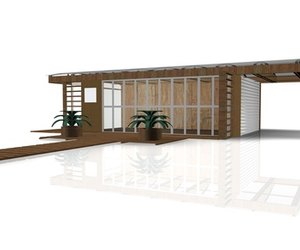 Step
Construct a free virtual house online at Architecture Studio 3D. This virtual house-builder walks you through choosing a fictitious "client" for whom you're building as well as the landscape surrounding the house. Users can select from pre-made floor plan styles, modify the interior with furniture and sectional walls, and choose the type of exterior material and roof. Architecture Studio 3D also allows you to modify the landscaping with trees, shrubs, and plants. This website contains a three-dimensional walk-through feature, giving users the chance to walk both around the house and inside to see furniture, walls, and other decorations in three dimensions.
Step
Go to the FloorPlanner.com website and sign up for a free account to get started building a virtual house. FloorPlanner contains a "Construction" set of tools that enables the user to draw exterior walls, surfaces, and single divider walls. The program allows you to specify the length and width of your house walls as well. FloorPlanner's "Library" box comes with multiple room-specific furniture options for decorating common rooms such as the kitchen, living room, and office, in addition to patio furniture. Users can choose to view the house in two or three dimensions during or after construction. The site even contains a "notes" feature that allows you to type directly on the building grid if you need to make notes. A "save" feature offered by FloorPlanner allows you to store your virtual house plan online.
Step
Build detailed floor plans on the Internet using the Gliffy Online program. Gliffy's free program allows you to not only create house plans, but also office buildings and network diagrams. Gliffy allows you to add walls, furniture, and other details to your virtual house using drag-and-drop software. This means that you only need to click on the item you want to add and "drag" it with the computer mouse to the appropriate area of the house. In addition, users can type in the exact preferred dimensions to re-size walls, furniture, and other house decorations. Gliffy allows you to save your house plans online, export them to your desktop as PNG image files, and print them directly from the web.