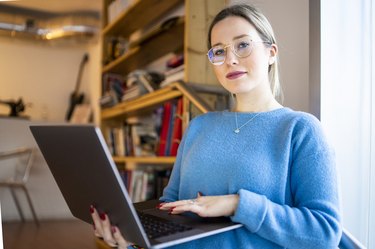 If you've watched recent home design shows on HGTV, you've probably seen how 3D design software can be used to create a virtual home model. Drafting a home design was once a tedious job accomplished with paper and pencil, but with a house design app, you can accomplish the same task in less time and with better results. There are several powerful home and interior design applications available online that you can use free of charge.
RoomSketcher App
Remodel or build a house online and produce professional drawings with the RoomSketcher app. A simple interface is provided to create 2D floor plans, or you can order and download floor plans created by professional designers. After you have a floor plan, create 3D room representations and then furnish and decorate your rooms using a library of thousands of fixtures and furnishings. An interactive walkthrough feature lets you view your design in 360 degrees.
When your designs are complete, the app generates fully rendered illustrations that look like 3D photos with realistic colors, textures and materials. The RoomSketcher app is available for Windows, Mac and tablet systems. You can also run the online version from a browser window. Upgrade to the paid version to access advanced features.
SketchUp for Web
SketchUp for Web is a simple modeling application that you use online for free. The software runs in a browser window and can be accessed from most mobile devices with an internet connection and the required graphics-display hardware. Because SketchUp provides a general-purpose 2D and 3D modeler, it can be used for floor plans as well as site design and landscaping. Models can be saved using free storage on Trimble Connect, which is provided when you register for the app.
Several preloaded templates are available to get you started on a project. As you model in 3D using SketchUp for Web, you can view the model from all sides while zooming and panning. You can also use standard views – top, bottom, front, back, left and right – to work in 2D. Three perspective views that are typically used for illustrations are also available.
Homestyler 3D Floor Planner
The Homestyler 3D Floor Planner is a free online design tool provided by Autodesk, a leader in 3D design software for engineering and design professionals. The free software runs in a browser and is intended for home designers and remodelers. It allows you to create precise floor plans and to decorate rooms in 3D space with items from an extensive product catalog. Use the visualization tools to walk through your virtual home in real time.
Homestyler for Mobile
The Homestyler Mobile app is a scaled-down home design tool that allows you to decorate and furnish a house on your Apple or Android smartphone or tablet. Use your device to snap a picture of a room in your house or upload a picture as a starting point. From there, you can change the wall color or apply wallpaper and different floor treatments. A digital product catalog is available to add realistic 3D models of furniture, lighting fixtures, window treatments and wall decor. The app also provides access to an online design community where you can post your designs and view those posted by others.
Expensive 3D design software has been used by professional designers for many years to preview and evaluate design ideas quickly. Now nonprofessionals can use online design apps like RoomSketcher, SketchUp and Homestyler to gain many of the same benefits at no charge. The floor plan templates and product catalogs provided with these apps can be an excellent source of inspiration.