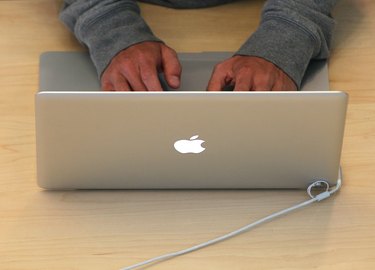 A booklet provides a good format when you need more space than a pamphlet provides but don't have enough information to fill a complete book. Microsoft Word for Mac 2008 does not include a feature for booklet printing. Earlier versions of Word for Mac included limited support and left many users frustrated. Fortunately, Mac users have access to an easy workaround for Word.
This article will walk you through creating your booklet in two phases. First, you'll print your Word document to PDF, and then you'll print your booklet to paper.
Creating the Booklet
Step 1
Download and install Create Booklet 1.1 from the Apple Downloads Site:
This free application will install an Automator Action to your PDF printing menu, which will allow you to easily turn your Word document into a booklet.
Step 2
Create a new blank document in Word. Click "File," then select "Page Setup." In the Page Setup dialogue box, set the paper size to match the size of the paper with which you intend to print your booklet.
Step 3
Click "View" and select "Print Layout."
Step 4
Write your booklet the same way you would any word document. One page in Word will equal one page of your booklet.
Step 5
From Word, click on "File" and then "Print" from the menu that appears.
Step 6
From the Word Print dialogue box, locate the "PDF" button in the bottom left corner of the box. Click on "PDF" and select "Create Booklet."
Step 7
Preview will automatically open with your booklet document. Save the document by clicking "File" and selecting "Save" from the menu that appears.
Printing Your Booklet
Step 1
Print your booklet from Preview by clicking "File" and selecting "Print" from the menu that appears.
Step 2
If your printer supports duplex printing—printing on both sides of a sheet of paper:
Select "Layout" from the drop-down box below Orientation options. Under "Two-Sided," select the "Short Edge Binding" radio button.
Step 3
If your printer does not support duplex printing:
Select "Paper Handling" from the drop-down box below the Orientation options. Use the Pages to Print options to print the odd and even pages of the booklet manually. First print the odd pages, then return the paper to the printer to print the even pages on the blank side of the already-printed odd pages.