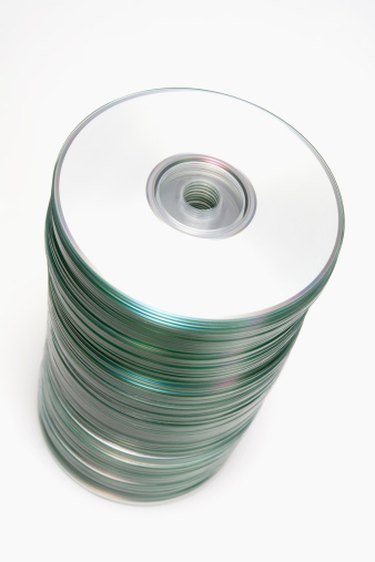 With the evolution of computer technology, the boundaries between what a DVD-R and a CD-R can store are disappearing. Traditionally, blank CD-R discs could only burn music, while DVD-R discs could burn videos. Since optical lasers read both discs, using a blank DVD-R in place of a CD-R to store music is not uncommon. The advantage of using DVD-R is the data storage capacity. A DVD-R utilizes more space on the disk. Whereas a CD-R usually has a storage limit of 10 to 20 songs, a DVD-R can store up to 100 songs. If your audio player can only play MP3 data DVDs, you will need to convert your WMA files to MP3s using a converter software.
Burning WMA Music Files to a DVD-R
Step 1
Place a blank DVD-R disc into the DVD-ROM drive.
Step 2
Open the Windows Media Player application and select the "Burn" tab located on the bottom right side of the player.
Step 3
Select "Burn Options" and click on "Data CD or DVD."
Step 4
Add your music files to the "Burn" playlist, much like you would do if you were burning straight to a blank CD-R disc. To add a song, click its music file and drag it directly into the playlist or right click on it and choose "Add to Playlist."
Step 5
Click "Start Burn" to begin copying. Depending on the file sizes and amount of songs, the waiting time for burning will vary. Once burning is complete, the DVD-ROM drive will eject your disc automatically.
Step 6
Confirm your Disc works by inserting it into a CD player, not a DVD player. If the DVD works in the player, you have successfully formatted the DVD-R into a CD-R. If the songs did not successfully record onto the DVD-R, you may need to convert them to MP3s and try burning them to the DVD-R again.
Converting Songs to MP3 Format to Burn Them to a DVD-R
Step 1
Download and install a WMA-to-MP3 converter from a site like convert-wma-to-mp3.biz. Click the "Free Download" link found at the top of the page to begin download.
Step 2
Import your songs by going to "Select Files" and choosing all the WMA audio files you wish to convert into MP3.
Step 3
Click the "Convert" icon to begin the conversion. You can follow the progress by looking at whether the current state says "Converted" or "Converting."
Step 4
Insert your DVD-R disc into the DVD-ROM tray. Open "My Computer" and right-click and choose "Open."
Step 5
Drag the converted MP3 audio files into the DVD-ROM window. Your disc will now become a DVD-R data disc that can be played as a CD-R data disc.
Step 6
Click the "Burn to disc" located in the left toolbar to begin burning.