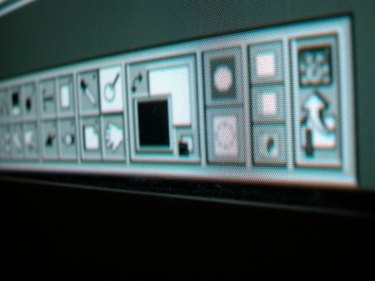 Adobe Photoshop supports dozens of file formats, from its own native PSD to the standard JPEG and GIF and many more. If you're trying to create a quality image with a transparent oval frame, then the PNG format is the way to go. It's suitable for use in other Photoshop projects or integrating it into a Web page. You can combine a transparent format with the oval selection tool and the crop tool for an interesting look.
Step 1
Open "Photoshop." Click "File," then "Open." Select the photo you want to modify, then click "Open."
Step 2
Click the marquee tool (dashed box), and click the elliptical marquee.
Step 3
Move the cursor to the center of the area you want to include in the oval. Hold down the "Alt" button, then click and drag to form the oval. Press "Ctrl"+"C."
Step 4
Click the "New Layer" button (the one that looks like a turning page) in the Layers toolbox. Hold the "Ctrl" button, then press "D" to deselect the oval. Click the background layer in the Layers toolbox in the bottom right-hand part of the window, then press "Delete."
Step 5
Press "Ctrl"+"V." Move the pasted oval picture around if you like. Click the "Crop Tool," then crop the picture to your liking.
Step 6
Click "File," then "Save As." In the file type drop-down menu, select "PNG." Click "Save." Select "None," then click "OK."