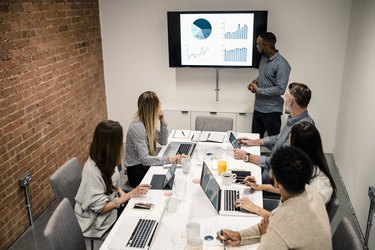 PowerPoint remains one of the most versatile and widely used presentation software tools. Thanks to an increasingly diverse suite of tools and capabilities, PowerPoint serves as a sturdy anchor for individuals across a variety of industries during speeches, presentations and just about anything in between.
One of the most helpful tools found inside PowerPoint is the option to play a presentation automatically, which is particularly useful if you are creating a presentation that will run without your oversight or participation, such as at a freestanding kiosk or exhibition. A PowerPoint automatic slideshow can be configured quickly in only a few quick steps.
Preparing Your PowerPoint Autoplay Functions
After you finish creating the slides for your PowerPoint presentation, you are ready to configure the autoplay functions. First, confirm that all your slides have the desired content and are in the appropriate order. Although you can make changes at a later point, it doesn't hurt to take a moment at this stage of the process to review your presentation as a whole. After you confirm the arrangement and content, open the "Slide Show" tab and press the "Set Up Slide Show" button. You have the option to configure your presentation for three automatic play modes: "Presented by a speaker (full screen)," "Browsed by an individual (window)" and "Browsed at a Kiosk (full screen)." Your selection determines how users can interact with the slides at any given time.
PowerPoint Slideshow Loop Options
If you select "Presented by a speaker," the slideshow runs automatically behind you as you speak to your audience. When you opt for "Browsed by an individual" as your automatic play mode, individuals can manually navigate through your presentation, which then loops and returns to the first slide upon completion of the deck. If "Browsed at a Kiosk" mode is selected, the slides progress automatically on a loop until an individual exits from the presentation entirely by pressing the "Escape" key. When "Browsed at a Kiosk" mode is selected, you configure the amount of time that elapses between slides. For example, if your presentation includes slides that contain a large amount of content, you may want to set a long delay between slide transitions to give the viewers time to review all the content on each slide.
Other Opportunities to Explore
PowerPoint autoplay has proven itself to be an integral component of the software and for good reason. In addition to the customization features mentioned here, you can also automate a variety of additional tasks, including PowerPoint animations during slide transitions and the length of time that these animations occur as one slide transitions to another. Whatever your specific needs may be, the chances are good that PowerPoint's unique set of resources can help you get the job done.