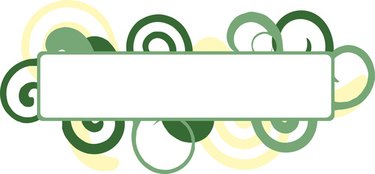 You can use data from an existing spreadsheet to generate labels. When you create a spreadsheet in Excel the data is arranged in columns and rows. Each column should include a heading, which will be used as fields when you pull your labels. The actual content (appearing on your labels) should be included below each heading. You can use mail merge to create Avery labels and choose your specific product number before you run them.
Step 1
Go to Avery's design and print center online to create your labels.
Step 2
Select "Address Labels" from the category. Check the product number of the Avery labels you're using, then pick a matching number from "Find Product Number or Description" and click on "Next."
Step 3
Choose "Blank Design" from "Select Category." Then click on the design on the right to load it on your screen.
Step 4
Choose "Mail Merge" for your editing option and click "Next."
Step 5
Click on the "Browse" button to retrieve the Excel spreadsheet file you want to use. The "File Upload" window will open.
Step 6
Double-click on the file and click "Next." The Excel data within the spreadsheet will be displayed.
Step 7
Select "Use your first row of data as column headings" and click "Next."
Step 8
Choose "Add Text Box" from the left to add a text box to your label. Then select the text box on the right. Click on the "Merge Field" button (on the left). The fields in your Excel spreadsheet will be displayed.
Step 9
Double-click the field you want to place within the text box.
Step 10
Double-click another field (from the left) that you want to include on your label. Then repeat until each field is added.
Step 11
Arrange the fields on your label, so they look the way you want. To place a field on another line, place your cursor before the field's bracket and press the "Enter" key. To add a comma, place your cursor after the field's bracket and insert the comma.
Step 12
Select "Next" when you are done.
Step 13
Choose to fill your labels across or down and click "Next."
Step 14
Select "Print Your Project" to print your labels immediately or "Save Your Project" to keep a copy of the merged labels in your files.