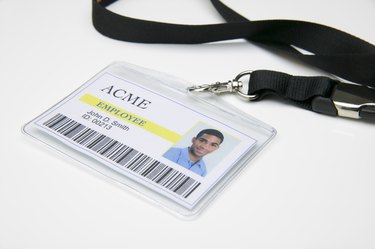 Data merging produces customized output that contains individuals' names, addresses and other specific information, inserted into a layout built with placeholders for bits of data set up in a source file. When you create batches of name badges in Adobe InDesign, you can use these merge techniques to create a template in which InDesign's data-merge features incorporate field placeholders that turn into employee or attendee identifiers in your final output. If you create these badges often, set up a merge-ready template or transform a regular template file into one that incorporates data fields.
Step 1
Open the Adobe InDesign template and verify that it contains all the text and graphic elements that belong on your badges, including static type and logos that identify an event or organization. The template's placeholder text, representing information about individual attendees at a conference or members of a company workforce -- names, titles and other credentials -- appears in the size and style you want to apply to this information on each record in a dataset.
Step 2
Open the "Window" menu, choose its "Utilities" submenu and select "Data Merge" to open the Data Merge panel. Open the fly-out menu at the top right corner of the panel and choose "Select Data Source." Navigate to the location of your data source, a comma- or tab-delimited text file in CSV or TXT file format. You can export these formats from Microsoft Excel and other spreadsheet programs, or create them in any program that can save text files. Data sources can include the paths to graphics and bitmaps to bring in photos or logos with each data record.
Step 3
Press "T" to switch to the Type tool. Click and drag through a text placeholder to select it. Double-click on the name of a data field in the Data Merge panel to replace the placeholder with the field name, either on an InDesign master page or on a document page. You also can drag and drop data fields from the panel to your layout. If you place data fields on a master page, they appear as placeholders, but each merged document page contains a record from your data source.
Step 4
Activate the "Preview" check box at the bottom of the Data Merge panel or choose "Preview" from the fly-out menu at the panel's top right corner. The first page of your document shows a preview of the merged results. If you choose to preview a multi-record data source, activate the "Preview Multiple Record Layout" check box in the Data Merge panel and scroll through the results with the panel's "Page" navigation tools.
Step 5
Open the Data Merge panel's fly-out menu and choose "Create Merged Document." In the dialog box that appears, select whether to merge all the records in your data source file, a single record, or one or more specific ranges of records. When you merge a multi-record data source, the Multiple Record Layout tab of the dialog box provides settings for arranging more than one record on an output-document page. The Options tab includes settings for placing images, including how to scale them, whether to center them in the frames they populate, and whether to link to them or embed them in the Adobe InDesign file. The Options tab also provides settings for skipping blank data records and limiting the number of merge records that appear in a single output file.
Step 6
Click on the "OK" button in the Create Merged Document dialog box to combine the data fields, static text and graphics in your Adobe InDesign document with the records in your data source file, creating a new file that contains the results. The InDesign file in which you set up your merge template remains open.