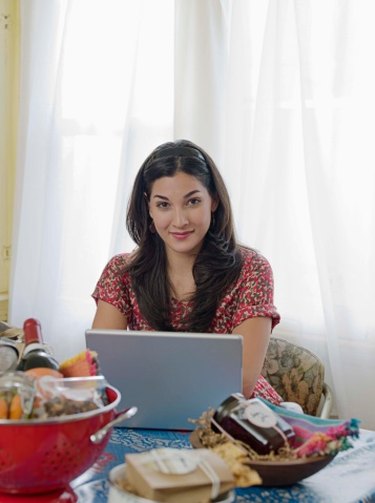 If you are working on a Microsoft PowerPoint presentation, then you may want to determine the length of your presentation using a computer ruler, located on the toolbar. Your screen may or may not reveal the ruler when you open a new presentation screen, but you can make it appear with a few simple, quick steps. You also can set the viewing time of individual slides so that they advance after a pre-programmed number of seconds.
Step 1
Open a new PowerPoint document by clicking on your "Start" menu. Then, click on "All Programs." Scroll down to "Microsoft Office." Click on "Microsoft Office," followed by "Microsoft Office PowerPoint." A new PowerPoint document will open up on your screen.
Step 2
Click on the "View" tab on your top toolbar.
Step 3
Click the open box next to the "Ruler" category. A top and a side ruler will appear on your PowerPoint presentation.
Step 4
Click on one of the default text boxes on your screen. The rulers will snap into shape. The rulers are English, 1/8-inch rulers. You will then see that the top ruler measures the length of your presentation at 8 1/4 inches.
Step 5
If you're looking to set the viewing time for each of the slides in your presentation, click on the "Animations" tab on upper toolbar. Look to the end of the toolbar and locate the "Advance Slide" category. Type the number of seconds or minutes you would like for each slide to take before it automatically advances to the next one. For example, check the box next to the label "Automatically After" and then type in the number of minutes or seconds for viewing time in the box provided.