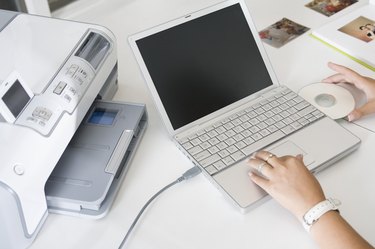 A mirror print is when you reverse an image horizontally on your computer before you print it out on paper. If you were to place a mirror in front of the backwards image it will appear right again. This is commonly needed when you are printing a T-shirt transfer, which will be ironed on. Since the paper must be applied face down on the surface the image will appear correctly when transferred over.
Step 1
Design the image in Adobe Photoshop (or a similar image-editing program) or purchase and download a pre-designed image from a royalty-free image database (see "Resources" for an example). Leave the image up on your screen (within the image-editing software) to work with.
Step 2
Click "Image" then "Rotate Canvas." Click "Flip Canvas Horizontal." This will make the image reverse itself, as if it were in a mirror.
Step 3
Mirror the image in Microsoft Word as an alternative to using Photoshop. Click "Insert" then "Picture" and deposit the image to a blank document. Select the image and click "Rotate" on the "Format" menu or "Picture" toolbar (may be different depending on your version of Word—see "Resources" for guidance on working with images in Word). Choose "Flip Horizontal" from the list of options.
Step 4
Print the mirrored image as you would normally from either program.
Step 5
Check your printer settings to see if there is an automatic mirror printing option as another option. If so, open the image and leave it un-mirrored (the original orientation). Go to your "Print" dialog box, select your printer from the list and select "Properties." Look under the "Print Orientation," "Features" or similar tab to see if there is a "Mirror Print" or "Flip Horizontal" option—if so select it and print as usual.