Installing a wall-mount television in the corner can maximize the available space in the family room or home theater, since there may be limited wall space for big screens in houses with numerous windows, picture frames or other decorations. This article explains how to wall-mount a television in the corner of a room.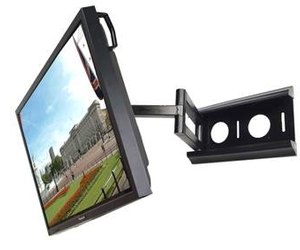 Step
Be sure that the corner wall-mount bracket and hardware are sufficiently rated to hold your particular television. A flat-screen TV set weighing more than 125 pounds should be mounted with a dual-arm bracket. Smaller sets can be wall-mounted using a single-arm bracket.
Step
Follow the television manufacturer's instructions for attaching the wall mount to the back of the set. Most flat-panel TVs have a four-point mounting system on the back of the set. Four bolts or screws must be removed from the rear of the console. The wall mounting bracket attaches at these four points on the set.
Step
Use a stud finder to locate the studs in the corner where the TV will be installed.
Step
Select the desired height for the television and with a pencil mark the position on the wall where the mounting bracket will be bolted through the wall into the studs.
Step
Use the wall level to make sure the mounting bracket will be level and parallel to the floor so that the television does not hang at an angle.
Step
Drill holes for the mounting bracket into the studs following the wall markings as a guide. Use wall anchors if studs are not located in the corner where the TV will be installed, but be certain the wall construction is sufficient to support the television. Wood paneling, for example, may not be strong enough to support the set without splitting or cracking.
Step
Attach the mounting bracket to the wall bolts.
Step
Mount the television to the wall bracket and secure the bolts. This is a two-person job, so get someone to hold the television while the bolts are attached to the back of the component.
Step
Adjust the TV to the desired viewing angle by pivoting the set on the mounting arm(s), which are typically a ball-and-socket arrangement that allows the set to be turned.