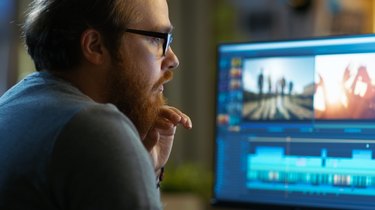 VLC Media Player is a free, open-source video player that also supports other media, and it's particularly good when it comes to playing less commonly found formats. If you're looking for an SWF player – a media player that supports Shockwave Flash files – then VLC is one of the best programs you can use. While there are other methods to open an SWF file, VLC has many other uses and is a more straightforward approach to playing the file than looking for a converter or a single-function SWF player.
Getting VLC Media Player
You can download VLC Media Player from the VideoLAN website for free. It supports tons of video formats, including MPEG, AVI, WMV, MOV, MKV, WAV and most other formats you're likely to encounter, including FLV. It doesn't incorporate ads, track users or contain spyware, and it has a lot of handy features, such as the option to normalize audio to counter the all-too-common problem of movies having quiet dialogue but loud action scenes.
SWF and FLV Files
The SWF file format is intended for online use. It's a Flash file format, but Flash uses two separate file types to show videos online. The actual video content is in an FLV (Flash Video) file or an MP4 or F4V file, while the SWF file is a browser plug-in that mainly contains the web player and the buttons embedded in it that you use to control the playback of the video, skip forward and so on. So if you want to use VLC for SWF files, you're trying to play an FLV file, which is supported by VLC.
Open SWF File With VLC
To open an SWF file with VLC, download the appropriate file and either right-click it and choose "Open with" or "Open" if you don't have a program associated with the format already, and then navigate to VLC Media Player from the list of options that appear. In Windows 10, you have to click "More Apps" after choosing "Open" to find VLC.
Alternatively, open VLC and go to "Media" and "Open File" before navigating to the SWF file and opening it.
In both cases, what you may be looking for is the associated video file, which probably has an "FLV" extension instead of SWF.
Converting SWF Files
If you want to convert SWF to MP4 or into any other video format, there are plenty of online tools you can use to do this. VLC supports SWF files anyway, so this isn't strictly necessary, but if you prefer the file in another format, you can make the conversion and then still play the resulting file in VLC in the same way.