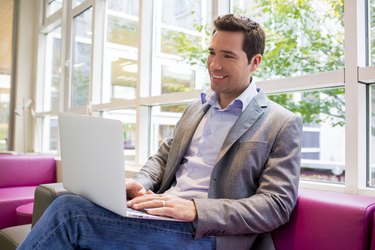 You can't opt-out of all Yahoo ads because they sustain Yahoo's business model and free online services. You can, however, withdraw from Yahoo's interest-based advertising. Doing so restrains Yahoo and its advertisers from tracking your online behavior and pursuits, with the aim of serving you relevant and useful ads. Preferably, opt-out of Yahoo's ad-matching program while logged in to your Yahoo account to maintain your choice consistently across multiple browsers and devices.
Opt-out of Ad Interest Categories
Navigate to Yahoo's Ad Interest Manager page (see Resources) and then sign in to your Yahoo mail account. In the Your Interest Categories section, toggle undesired ad categories to the "Off" position to opt-out of them. Turning off more than seven ad categories will require you to opt-out of all listed categories -- an option that pops-up after clicking the seventh category.
Use the Yahoo Opt-out Button
Alternatively, click the large "Opt-Out" button on Yahoo's Ad Interest Manager page. This enables you to pull out of both listed and unlisted ad interest categories. Unlisted categories are created by Yahoo to serve special advertiser requests; you can't control them individually and they don't appear on Yahoo's Ad Interest Manager.
Go Beyond Yahoo
Yahoo can help you opt-out of ad categories within its advertising network, but it can't completely regulate the ad-related cookies and online tracking carried out by collaborating networks and advertisers. For other opt-out options, visit the Network Advertising Initiative and Digital Advertising Alliance (see Resources). Also explore browser add-ons that may help you better control and manage opt-out cookies.