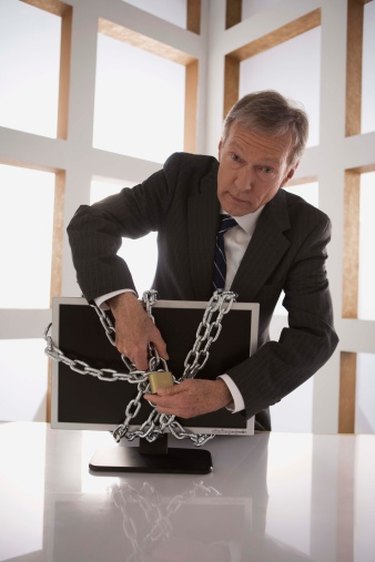 Microsoft Excel makes protecting your Excel files easy so you can keep your sensitive information private. Many individuals and businesses use Excel to keep track of expenses, and password-protection can give you peace of mind if you share your computer or are worried about computer theft. These instructions apply to Excel 2010; earlier versions offer similar protection abilities, but the exact process varies. Consult your Excel "Help" menu, accessed by clicking the blue and white question mark icon, if you are using a different version of Excel and having difficulty password-protecting your workbook.
Step 1
Open the Excel file you want to protect and click on the "File" tab in the Office Ribbon. This launches what is called the "Backstage view."
Step 2
Click "Info," and then choose "Protect workbook."
Step 3
Choose "Encrypt with a Password."
Step 4
Enter a password in the dialog box and click "OK."
Step 5
Re-enter your password when prompted, and then click "OK" again to set the password.
Step 6
Write down your password on a piece of paper and store it somewhere apart from your computer in a secure location. Excel does not have any password recovery features, so if you forget the password you will lose access to your document.
Tip
You can remove the password by following the same steps, but delete your existing password in the password entry form and click "OK."