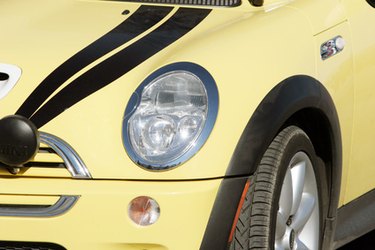 The Mini Cooper offers a number of options for entertainment while you're out on the road. The 2007 to 2010 Mini Coopers all come with auxiliary inputs on the stereo that allow you to connect a number of different components. You can listen to MP3s in the Mini Cooper using a number of techniques, depending on whether you use an iPod, USB drive or other MP3 player.
Step 1
Locate the USB port and the 3.5 mm auxiliary port in your Mini Cooper. The 3.5 mm is exactly the same as a headphone jack on an iPod or other MP3 player. On the 2007 to 2010 models, the USB port and the auxiliary port are together at the very bottom of the center stack, underneath the overhang.
Step 2
Plug the iPod and iPhone "Y" connector into the USB port and auxiliary connector at one end and the other end into the bottom of the iPod or iPhone. Let the systems talk for a few seconds. Then press the "Audio" button on your stereo system and select "iPod." Music will start playing and you can select the MP3 you want to play using the radio or steering wheel controls.
Step 3
Plug the 3.5 mm cable into the auxiliary port on the bottom of the center console and plug the other end into the headphone jack on your MP3 player. Select "Aux" in the radio, and the radio will play whichever song is playing on the MP3 player. When you want to change the song with this method, you have to do so on the MP3 player.
Step 4
Plug the USB drive directly into the USB port on the center stack. Select "USB" as the audio type. You can control the song using the controls on the Mini's radio.