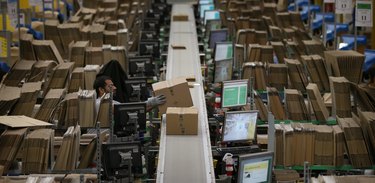 Orders shipped from Amazon include a receipt in the box, but if a third-party seller neglected to include a copy or if you need the receipt before the order arrives, print a copy from the order history page on your Amazon account. In addition to physical purchases, Amazon's website provides printable invoices for digital content, such as downloadable games, music and Kindle books.
Print Order Invoices
Log in to your Amazon account, place the cursor over the "Your Account" menu on Amazon's site and click "Your Orders." Open the drop-down menu that reads "Past 6 Months" by default to pick a year, or search for a specific item with the search box on the page. Once you find the item you need, click "Invoice" beneath its order number. On the invoice page, click "Print this page for your records" or press "Ctrl-P" to open the Print dialogue box and print out the receipt.
MP3, Kindle and Software Orders
Amazon doesn't list digital orders, such as those for Kindle books, on the same page with your orders for physical items. Instead, click "Your Account" and then click either "View Your Digital Orders" for music and Kindle downloads or scroll down and click "Your Games and Software Library" for games and other programs. The digital orders page works just like the physical orders page -- find an item and click "Invoice." For a software invoice, click "View Order Details" by the program and then press "View or Print Invoice."