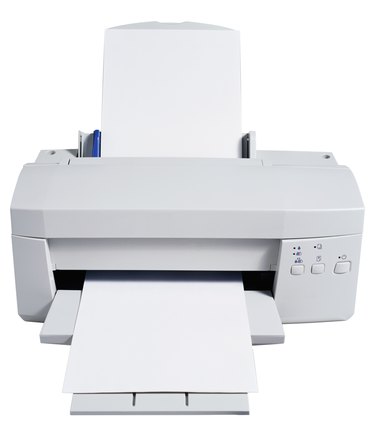 Adobe created PDF files in the early 1990s. This is a common file type for invoices or other documents the sender or user does not want changed. You do need a special program to open PDF files from Adobe, called Acrobat Reader, which is free for the downloading. When using read-only PDF files, you cannot make any changes to the text, margins or graphics. However, you can print these PDF files. Make sure you have Adobe Acrobat Reader loaded onto your computer before trying to open and print any PDF documents.
Step 1
Turn on and allow your computer to boot completely. Make sure to give your computer a couple of minutes since opening Adobe Acrobat PDF documents takes up the speed of your computer and will be exceptionally slow if the computer is not totally booted.
Step 2
Load paper into your printer according to your manufacturer's instructions before attempting to print the PDF document so your printer is ready and waiting.
Step 3
Locate the PDF file you want to print. Click on "My Documents." Search through the list of documents until you find the proper one. Look for the red and white colored Adobe/PDF sign next to the document for easy locating.
Step 4
Click two times quickly on the document to open it.
Step 5
Place your cursor on the toolbar at the top left of the PDF window and locate the small printer icon. Click on the printer icon.
Step 6
Read through the printer window. Choose your "Print Range." Check the box for "All" to print all of the pages in the document. Click "Current View" to print only the part of the document that is showing in the open PDF document. Click on "Current Page" to print the entire page that is showing in the open PDF window. Click on "Pages From" to print only certain pages. When choosing this option, make sure to type the page numbers you want printed.
Step 7
Answer the printer window as far as how many copies you want to print. Click on the up and down arrows to choose how many copies you need.
Step 8
Choose your desired paper scaling if the size of the document is not the standard 8½ by 11 inches.
Step 9
Look in the lower right corner of the print window and click on "OK" to send the document to your printer.