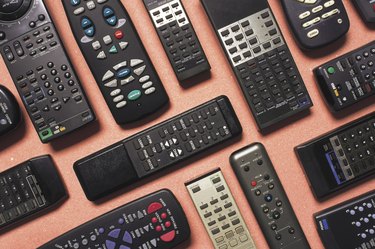 A jumbo universal remote allows you to program your television, DVD and VCR player all into one remote. Such devices also have the benefit of being large and, therefore, more difficult to lose. If you have a universal remote but you no longer have your owner's manual, and you just acquired a new television or DVD player, you can still program the remote to operate your new device.
Step 1
Identify the brand name of your new TV, DVD player or VCR, and bring up the list of codes by going to the link in Resources. Locate the codes you will need.
Step 2
Turn on the device you want to program into your universal remote.
Step 3
Aim the remote at the device, and press and hold down the "Code Search" button until the light turns red.
Step 4
Press the "TV," "VCR" or "DVD" button, depending on the device you are programming into your universal remote. The red light will blink once and then remain red.
Step 5
Enter the first three-digit code in the remote. If it is correct, the red light will turn off. If the light flashes instead of turning off, you will need to try the next code. Keep repeating Steps 3 through 5 until the red light turns off.
Step 6
Aim the universal remote again, and press the power button on the remote. Your device should turn off. If it does not turn off, continue Steps 3 through 5 until you find another code that turns off the light.
Tip
The instructions may vary slightly depending on the brand of your jumbo universal remote.