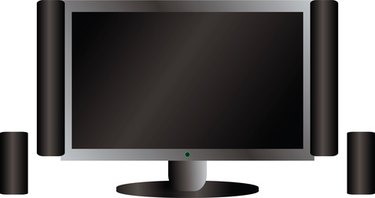 The Sansui company produces LCD televisions of various sizes that you can use in your home to watch high-definition programming. Sansui televisions feature a channel memory feature which will allow you to skip over channels that you don't get with your cable package. Before being able to take advantage of this feature, you must go through a programming process to search through available channels and save those you get and delete those that you don't get from the device's internal memory.
Step 1
Turn on the television using the "Power" button on the remote control. Press the "Menu" button on the remote to bring up the main menu for your Sansui. Use the "Up" and "Down" arrows to navigate to the "Setup" option and then press the "Right" arrow to select it.
Step 2
Use the arrow buttons to move down to the "Auto Ch Search" menu option and press the "Enter" button to select it. The television will begin to search through all of the channels available on your cable system manually. You will see these channels on the screen as the television searches. The TV will automatically save channels that come in clear and delete channels that are nothing but static. This may take several minutes. Do not interrupt this process. The TV will return to the first channel programmed when finished.
Step 3
Press the "Menu" button again to return to the main menu and navigate to the "Setup" option and hit the "Right" button once again. Use the arrows to navigate to "Manual Ch Set" and press "Enter." You will see a list of all the channels that were programmed by the search. Use the arrow keys to move through this list and press "Enter" on any channel to remove it from the memory. Press "Menu" when finished to save your changes.