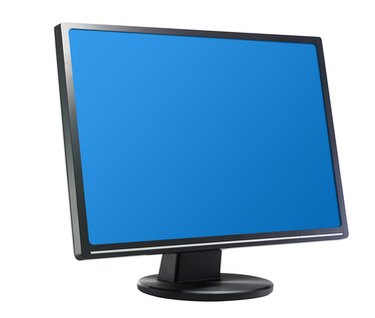 Don't risk potential neck strain by working with a Dell monitor that is sitting at the wrong height. It is important to raise or lower your monitor to an ergonomically correct position so that you won't have to tilt your head and neck uncomfortably, which can cause long-term discomfort. To be as ergonomically correct as possible, your monitor should be set up so that your line of sight is at or near the top of the screen. Follow these tips below so that you can place your Dell monitor in the best position for your use.
Height-Adjustable Dell Monitors
Step 1
Measure to determine the best height for viewing your Dell monitor. Sit up straight in the chair you will be using while at the computer.
Step 2
Raise the Dell monitor up by pulling upwards on the monitor, and it will slide up on its base. Adjust the placement until you find a comfortable viewing height.
Step 3
Unlock the height adjustment if it is stuck. If you bought a height-adjustable Dell monitor, but it is not moving, it may be locked down. The Dell monitors use this feature so that they won't move while being transported. To unlock the monitor, press the lockdown/release button, which is on the back of the adjustable stand, while simultaneously pushing slightly down on the monitor. This will release the Dell monitor from being locked down.
Non-Height-Adjustable Dell Monitors
Step 1
Place your CPU (the central processing unit) on its side on the desk or work station that you will be using, then place the Dell monitor on top of the CPU. This method will not only give your monitor height, it will also give you convenient access to DVD or CD drives and ports. Also, as in Step 1 of Section 1, measure to determine the best viewing height for your monitor. If the monitor is still too low, you may want to add a book or other object between the CPU and the monitor to give it addition lift.
Step 2
Purchase a monitor stand. You can find many different stands at an office supply or electronics store. Using the measurements of the monitor height you desire, pick out a monitor stand that will raise your Dell monitor to the desired height. As a nice bonus, some monitor stands also have slide-out keyboard trays.
Step 3
Create your own monitor stand. If you do not want to spend money on a monitor stand, you can use items from around the house. Stack books or telephone books to raise your Dell monitor to the desired height.