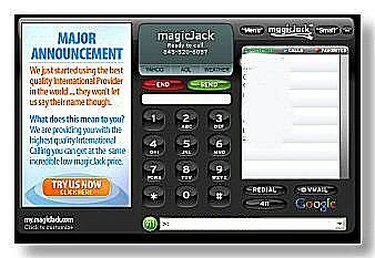 Now that you made the plunge and purchased your Magic Jack phone, it's time to make it work for you. It's great that you are only paying $20 a year for your phone service, but it's worthless if you can't configure it to work the way you want to. One important feature is to setup your voicemail box and record your greeting.
Step 1
Call our Magic Jack number from a phone that is currently connected to the device or click the "VMAIL" icon on the Magic Jack software.
Step 2
Press the star key (*) when you hear the voice recording.
Step 3
Enter your password. If this is the first time you're accessing your voice mail box, then use the default password of 1234.
Step 4
Press 0 for mailbox options. Once you're in the mailbox options you have the option to change your unavailable message (option 1), busy message (option 2), record your name (option 3), record a temporary greeting (option 4) and change your password (option 5). If you're still using the default password, now is your chance to change it.
Step 5
Select the corresponding number for the option you want to record. Once you're done recording your Magic Jack voice mail greeting press the pound (#) key.
Step 6
Listen, accept or re-record your voice mail greeting. After you listen to your message (option 1) decide whether to accept (option 2) or re-record your message (option 3). After you're satisfied with your new message, you can go back to the main menu (press *) or hang up to end the call.