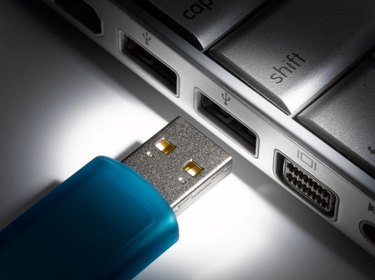 Before the wide use and acceptance of flash drives, moving files from one computer to another required you to burn the files to a floppy disk or CD, or transfer them over a network or via email. Flash drives, also known as thumb or jump drives, let you copy and share files with any computer that has a USB port. The drives are portable and are available in different sizes, from a few megabytes to more than 100 gigabytes. You can format a flash drive with the FAT, FAT32, exFAT or NTFS file systems.
Step 1
Insert the USB flash drive into an open USB port on the computer. Click "Start," then right-click "Computer" and select "Manage."
Step 2
Click "Device Manager," then click the triangle next to "Disk Drives" and right-click the USB flash drive. Click the "Policies" tab, then the "Better Performance" radio button. Click "OK."
Step 3
Click "Disk Management." Right-click the USB flash drive in the upper window and select "Format" from the context menu.
Step 4
Enter a name for the volume in the "Volume Label" text box. Choose the file system you want to use for the drive. Select "NTFS" if you want to store files larger than 4GB on the flash drive. Click the "Perform A Quick Format" check box. Click "OK."
Tip
When you optimize your flash drive for better performance, you enable write caching on the drive, which means that data copied to the drive is not necessarily written to the drive immediately. To ensure that you don't lose any data, you should always properly eject the drive with the "Safely Remove Hardware and Eject Media" icon in the system tray before removing it from the USB port.