To register a new modem with Comcast, you will need to hook up the modem to your Comcast Internet service. If you have a third-party cable modem, Comcast advises you to follow the instructions that came with the modem. Any third-party modem must be Data Over Cable Service Interface Specifications-, or DOCSIS-compliant.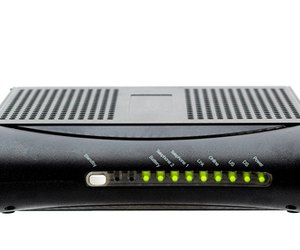 Step
Connect your coaxial cable from your cable outlet to your cable modem. Accomplish this by screwing the ends of the coaxial cable into the cable wall outlet and the cable connection on your modem.
Step
Plug in either your USB cable or your Ethernet cable. If you prefer to use USB, plug your USB cable into the back of your modem first, using the small square end where you find a "USB" labeled port. Subsequently connect the flat end of the cable to a USB port on your computer. Plug your modem into a wall outlet by using the electrical adapter that comes with the modem. If using USB, your computer will automatically pick up your modem and install the hardware. Your modem lights will blink on and off in a series of patterns and register with Comcast. At this point, proceed to Step 4.
If you prefer to use Ethernet, plug the cord into the back of your modem and plug the other end into an Ethernet port on the back of your computer. Plug your modem into an electrical outlet on your power strip with the electrical adapter that comes with your modem and proceed to Step 3.
Step
Put the installation CD that arrived with your modem into your CD/DVD-ROM drive. The set-up menu will load. Follow the instructions to install the modem on your computer. Once installation completes, restart your computer as prompted. When you computer reboots, the modem will connect and register with Comcast. Go to the next step before attempting the surf the Internet.
Step
Open a web browser and follow the instructions on your screen to download and install the required Comcast software. Make sure you answer all questions during the installation process, agree to the "Comcast Residential Agreement" and accept the licensing terms when prompted.
Step
Choose a user name as prompted, used for both Comcast email and accessing the Comcast website. Using the user name and your chosen password, log into the Comcast website as prompted. Download all other required software once you log into the website. Comcast will automatically check your computer and recommend required software to download and install. Follow the on-screen instructions for each prompt to accomplish this. Once complete, you can surf the Internet with your new modem.