The tools of Photoshop can remove belly rolls from a photo far more easily than you can remove them from your body. Photoshop is the leader in image editing software, and it offers a range of tools for altering features and improving blemishes. Learn how to use those tools to shed a few quick pounds digitally.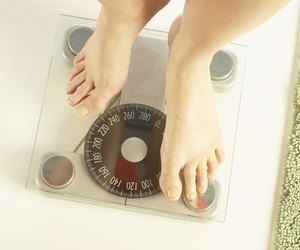 credit: Hemera Technologies/AbleStock.com/Getty Images
Step
Load the photo with the unwanted fat rolls on your computer.
Step
Open Photoshop. Click "File" in the top menu and click "Open." Go to the photo you loaded and open it.
Step
Click "Filter" in the menu and click "Liquify." In the dialog that opens, you will see a preview of the image you are working on.
Step
Go to the toolbar on the left of the dialog and select the "Forward Warp" tool. In the controls on the right, make the size of the brush smaller than the rolls of fat.
Step
Use the tool to push the rolls in. Be careful to make a smooth edge. Don't go so far with the effect that it is obvious. Also make sure that both sides appear symmetrical.
Step
Click "OK" and save your work.