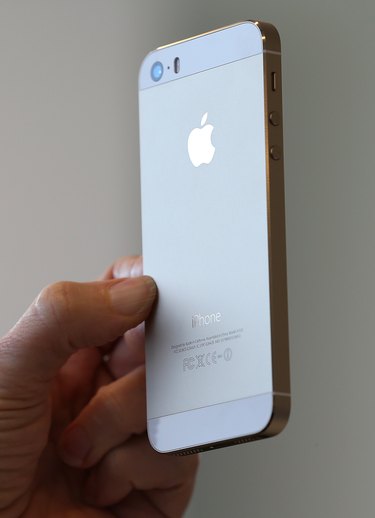 Phone pass codes help keep the sensitive data on your phone out of the hands of identity thieves, and keep your friends from snooping around or playing pranks on your device. Apple offers a few methods that reduce the annoyance of entering an pass code on the iPhone without compromising security, such as Touch ID and a timed delay before the phone locks. Open the Passcode section of the Settings app to change these settings, or, if you're comfortable with the risk, turn off the pass code entirely.
Disabling the Pass Code
Completely turning off the pass code on an iPhone makes it faster to pick up and use, but allows anybody to unlock it. On iOS 7.1 and above, open the Settings app and tap "Passcode" (or "Touch ID & Passcode" on iPhone 5s) to change code settings. On older system versions, open "Settings," tap "General" and then press "Passcode Lock." Enter your current code, choose "Turn Passcode Off" and enter your current code again. To help keep your data safer without a pass code, turn on "Find My iPhone" in the iCloud settings, which includes a feature to remotely erase your phone if you lose it.
Using Alternate Passcode Settings
IOS includes a few options on the pass code settings page that make it easier to unlock your phone without completely disabling the code. Tap "Require Passcode" to change how often you need to unlock your phone. All settings except "Immediately" allow you to turn the phone off and on without entering your code every time. You can also set certain features, such as Siri or Messages, to be available prior to unlocking. If you have an iPhone 5s, turn on Touch ID to unlock your phone using the fingerprint scanner. Touch ID doesn't replace your pass code, but provides a faster alternative.