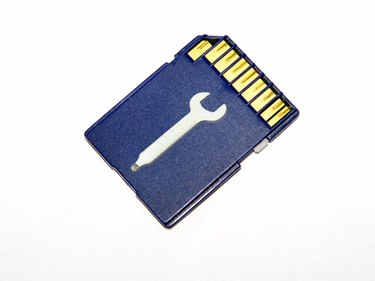 Memory cards are most often used in digital cameras and cell phones, although many computer systems now possess the ability to read and save content onto the card. If you have a memory card that is not functioning properly, you need to correct the issues by performing a few troubleshooting techniques to fix external and internal errors on the card.
Step 1
Look at the memory card. Locate a small slot on the side of the card with a plastic switch. This switch allows you to write protect the card, preventing anything from being saved or deleted from the card. If the switch is in the down position, the write protection is enabled. Correct this by pushing the switch back up.
Step 2
Inspect the memory card for any loose corners. If you find one corner is separated, firmly push the corners back together (occasionally the card begins to split into two separate pieces). This snaps the card back into one piece.
Step 3
Insert the memory card into the memory card slot on the computer and click "Start," "Computer," then double-click the removable device icon. A window loads with all the files stored on the card. If the card is completely full, delete saved files to make room for additional content. Select a file you no longer need and press "Delete."
Step 4
Reformat the card if other troubleshooting steps do not work. Exit out of the window, then right-click the removable device icon and choose "Format." This returns it back to its original factory settings (although it also erases all content currently stored on the card). In a moment the format window loads. Click "OK" to format the card.